And if you liked this review, please check out some of my other reviews:
About the Book: Pirate Nemesis by Carysa Locke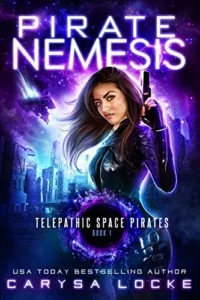 Series: Telepathic Space Pirates #1
Genre: Science Fiction, Romance, Paranormal, YA
Format: Audiobook
Pirate Nemesis ARC Review
I received a free copy of Pirate Nemesis for an honest review.
My biggest problem with Pirate Nemesis is the portrayal of the protagonist, Mercy. Mercy is the EXTREMELY cliched YA heroine who is always kind, brave, bad-ass, and "didn't want the power". This bugs me a lot because I'm so sick of the trope in fictional works where the protagonist "didn't ask for" this amazing power, and "doesn't want this". I personally think that this trope is way too overused and is quite unrealistic because I really can't relate to any character or real-life person who would not be at least a little bit awed by the amazing power that they "unknowingly" possess.
But aside from this, other things are all really enjoyable. Reaper is an amazing character (who is super flushed out) and is the perfect partner to Mercy. The storyline is also really interesting and the whole concept of the "talented" and how their society works (can't get too much into it because of spoilers) is also pretty creative and interesting.
I would recommend this book to people who are interested in a pretty standard YA book with a really interesting romantic interest, as well as psychic abilities mixed with science fiction elements.
About the Author