About The Price of Rebellion by Michael C. Bland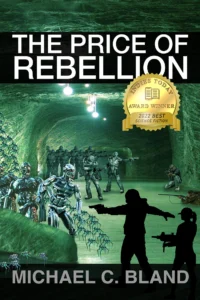 It's 2047. Secrets have been revealed. And Washington wants revenge.
Dray Quintero learned an ugly truth: the leaders in D.C. are fake. They've stolen the identities of those elected to Congress and are determined to stay in power, using his own technology against him and the rest of the population.
After revealing the dangers of their mandated implants to his fellow citizens, and calling on everyone to rise up, Dray joins the already-underway rebellion. But his joining is as much to free the U.S. as it is to avenge his daughter's death. Before he can strike, The Agency attacks with devastating consequences. Dray and the other survivors are forced to run as Agents hunt them.
Then Dray makes a discovery that could change the nation.
As he and the rebels prepare a bold offensive, his wife, Mina, broadcasts a preposterous claim. He's forced to choose between the rebellion and a desperate hope. Between family and country.
What he does will change everything.
The Price of Rebellion is the action-packed second installment of The Price Of series from multiple-award-winning author Michael C Bland.
The Price of Rebellion Review
I was compensated for my time reading the book and writing this review. However, all thoughts and opinions expressed are my own and are based on my honest personal experience reading the book. Nor did the author in any way shape or form ever pressure me to give a positive review.
The Price of Rebellion offers a riveting and contemporary take on the science fiction genre. What sets it apart is how plausible and relevant the setup of the book is. This plausibility arises from the book's exploration of a theme that feels exceptionally relevant in our times: the delicate balance between safety, privacy, and government control.
The novel underscores the fine line governments tread when they harness this technology to monitor and control their citizens in the name of safety. In a world where our lives are increasingly intertwined with smart devices and social media, the concerns raised by the book hit home with resounding relevance. Technology will only get better and not worse, making this issue more urgent than ever.
Right off the bat, The Price of Rebellion immediately captured my attention with its fantastically done timeline of events right at the very beginning. This approach was such a creative and clever way to efficiently lay the groundwork for the setting, events, and background leading up to the core of the narrative without resorting to unnecessary and awkward exposition. While simultaneously acting as a thrilling hook that grabs the interest of the reader to continue further investing in the story. It's unquestionably one of my favourite aspects of the book, elevating my reading experience of The Price of Rebellion since the beginning.
The coherency of the timeline also served as an early indicator to me that the narrative structure of the book would be organized and coherent, which ended up being the case. Every element in the story felt intentionally placed to drive the plot forward, leaving no room for fillers or disjointed segments that didn't align with the overarching narrative.
Perhaps it's because the plot was drawing my attention so much, that I sometimes found it somewhat overshadowing character development when reading. I discovered myself more invested in what would happen next than in how the characters would respond to these future developments. My emotional attachment to the characters felt somewhat distant, and I viewed them more like vessels to experience the story through.
It's worth noting that this critique does not insinuate the character portrayals were lacking in writing. On the contrary, the characters were well depicted, feeling like realistic portrayals of how individuals will behave in a situation as portrayed in The Price of Rebellion. With that being said though, my unique reading experience with this book is that I experienced it more like it's a plot-driven narrative than a character-driven one.
And one reason why the story was so riveting to me was because of its relevance, especially when we consider the growing privacy concerns in our reality. As individuals, we should be ever more vigilant about safeguarding our privacy. And the book's portrayal of a society where surveillance readily encroaches on personal freedoms is a stark reminder of the importance of this balance.
Therefore, this book acts as a compelling commentary on the ethical dilemmas posed by the intersection of government control and personal liberties. As we witness real-world debates about encryption, facial recognition technology, and the boundaries of governmental oversight, the questions raised by The Price of Rebellion become all the more pertinent.
In a world where we grapple daily with the implications of technology and government power, The Price of Rebellion stands out as a captivating exploration of the delicate equilibrium between safety, privacy, and government control. It reminds us that this balance is not just a fictional construct but an issue that demands our vigilant contemplation in our tech-driven reality. With its tense pacing, seamless writing, and thought-provoking dialogue, this science fiction novel serves as both a thrilling read and a pertinent reflection on the challenges of our times.
If you liked this review and want to see other book reviews like this one, check out my book reviews collection!
The Price of Rebellion Awards and Recognitions
Award-winning sci fi author explores the dangers of tech and the importance of family in new "The Price of" novel
"A thrilling and provocative dystopian tale"–Independent Book Review
Indian Shores, FL – "The Price of Rebellion" (World Castle Publishing, May 2023) is the action-packed second installment in the bestselling "The Price of" series from award-winning author Michael C. Bland.
Praise for "The Price of Rebellion"
"adrenaline-fueled, laser-focused…an undeniable page-turner"
– Kirkus Reviews
"An exciting, fast-paced adventure…exceptionally well-written and innovative."
– Readers' Favorite
Praise for "The Price of Safety"
"The Price of Safety is an imaginative, action-driven science fiction novel set in a nightmarish yet plausible future"
– Foreword Clarion Reviews
"Bland effortlessly blends anticipation of a fast-paced thriller, sophisticated techno details of a science fiction novel, and emotional quotient of a well-crafted story into a complex and engrossing plot"
– The Prairies Book Review
"reminded me of some of Michael Crichton's novels, and of Minority Report… The Price of Safety was an extremely well-crafted story that not only gave me goosebumps but also made me think. I am looking forward to a sequel"
– Mystery Sequels
"Exceptional world building and non-stop action combined with heart and compelling characters make Bland's debut a must-read sci-fi book"
– Jennifer Brody, award-winning author ofThe 13th Continuum
"The Price of Safety by Michael C. Bland would fit in perfectly with those 90s techno thrillers that put an everyday person into the middle of some cyber conspiracy. It has all of the trappings that made them cool: neat tech, a race against the clock, tons of action, and one man facing off against a tyrannical government"
– High Fever Books
"The Price of Safety… will leave you completely breathless. This is a book brimming with fast-paced action that continually ramps up until the final crackling climax"
– Readers' Favorite
Get The Price of Rebellion Now!
Michael C. Bland | May 16, 2023 | World Castle Publishing | Science Fiction
Hardcover | ISBN: ​​978-1958336892 | $27.99
Paperback | ISBN: 978-1958336908 | $15.99
Ebook | ASIN: B0BMKWQ461 | $3.99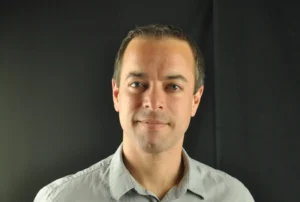 Michael's debut novel The Price of Safety was published in 2020. Though released during a global pandemic, The Price of Safety reached #7 in Amazon's rankings for Dystopian novels and won awards for both Science Fiction and Thriller (by Indie Book Awards) as well as New Fiction (by National Indie Excellence Awards). The second novel in the trilogy, The Price of Rebellion, was released in May 2023. It won Best Science Fiction Novel of 2022 by Indies Today and was awarded a Bronze Medal for Science Fiction by Readers Favorite.
Michael is a founding member and the secretary of BookPod, an online book support group. "Elizabeth", one of his short stories, won Honorable Mention in Writer's Digest 2015 Popular Fiction Awards contest, and two of the short stories he edited have been nominated for the Pushcart Prize. He currently lives in Florida and is working on the third book in The Price of trilogy.