If you are wondering what are the It Happened One Summer spicy chapters, this guide is for you! Is It Happened One Summer spicy? It doesn't have a lot of It Happened One Summer spicy chapters, but the ones it does have are decent.
It Happened One Summer by Tessa Bailey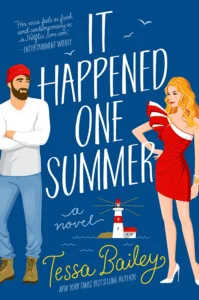 Series: Bellinger Sisters #1
Genre: Romance, Contemporary, Fiction, Adult, Chick Lit, Humor
Piper Bellinger is fashionable, influential, and her reputation as a wild child means the paparazzi are constantly on her heels. When too much champagne and an out-of-control rooftop party lands Piper in the slammer, her stepfather decides enough is enough. So he cuts her off, and sends Piper and her sister to learn some responsibility running their late father's dive bar… in Washington.
Piper hasn't even been in Westport for five minutes when she meets big, bearded sea captain Brendan, who thinks she won't last a week outside of Beverly Hills. So what if Piper can't do math, and the idea of sleeping in a shabby apartment with bunk beds gives her hives. How bad could it really be? She's determined to show her stepfather—and the hot, grumpy local—that she's more than a pretty face.
Except it's a small town and everywhere she turns, she bumps into Brendan. The fun-loving socialite and the gruff fisherman are polar opposites, but there's an undeniable attraction simmering between them. Piper doesn't want any distractions, especially feelings for a man who sails off into the sunset for weeks at a time.
Yet as she reconnects with her past and begins to feel at home in Westport, Piper starts to wonder if the cold, glamorous life she knew is what she truly wants. LA is calling her name, but Brendan—and this town full of memories—may have already caught her heart.
It Happened One Summer Review
It Happened One Summer follows Piper Bellinger, a Hollywood socialite trying to escape the spotlight, and Brendan, a grumpy Alaskan sea captain, as they embark on an unexpected adventure in the small town of Westport.
Tessa Bailey's writing is witty, funny, and filled with charm, making it a joy to read from start to finish. The banter between Piper and Brendan is entertaining, and their chemistry sizzles off the pages.
The characters in It Happened One Summer are well-developed and endearing. Piper's journey of self-discovery and growth is empowering, and Brendan's gruff exterior hides a heart of gold.
The romance in the book is sweet and passionate, and it's impossible not to root for Piper and Brendan to find their happily ever after. The It Happened One Summer spicy chapters definitely help intensified the romance development.
What sets this book apart is the beautiful setting of Westport, Alaska, which becomes a character in itself. Tessa Bailey's vivid descriptions bring the small town to life, making readers feel like they are right there with the characters.
In sum, It Happened One Summer is a feel-good romance with a perfect blend of humour, heart, and spice. If you're looking for a light and enjoyable read that will leave you with a smile on your face, this is the book for you.
Even better, this book is also one of the best grumpy and sunshine trope romance books out there!
It Happened One Summer Spicy Chapters
Chapter 16
Chapter 18
Chapter 21
Chapter 26
Chapter 31
As many readers may know (especially romance book readers), oftentimes we like to seek out book tropes and read romance books that include the book tropes we usually like and the book tropes we want to read at the moment. It's what drives a lot of book recommendations and is a common way we seek out books to read.

If you are a reader who is interested in:
Tracking tropes that you have already read
Tracking tropes that you would want to read in the future
Collect original trope ideas that you came up with (and haven't come across before)
Then this book trope reading journal is perfectly made for you!