Is Things We Never Got Over Spicy? Eh, moderately. Compared to the other books mentioned here it's considered very tame. But since it's a common query, your wishes are my command and I'll heed your calls anyway. So if you want the Things We Never Got Over spicy chapters, this guide is for you!
Things We Never Got Over by Lucy Score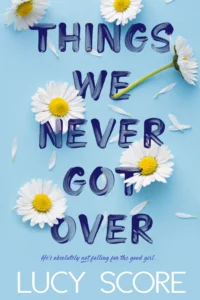 Series: Knockemout #1
Genre: Contemporary, Romance, Fiction, Adult, Chick Lit, Love, Humor
Things We Never Got Over Spicy Chapters
Bearded, bad-boy barber Knox prefers to live his life the way he takes his coffee: Alone. Unless you count his basset hound, Waylon.

Knox doesn't tolerate drama, even when it comes in the form of a stranded runaway bride.
Naomi wasn't just running away from her wedding. She was riding to the rescue of her estranged twin to Knockemout, Virginia, a rough-around-the-edges town where disputes are settled the old-fashioned way…with fists and beer. Usually in that order.
Too bad for Naomi her evil twin hasn't changed at all. After helping herself to Naomi's car and cash, Tina leaves her with something unexpected. The niece Naomi didn't know she had. Now she's stuck in town with no car, no job, no plan, and no home with an 11-year-old going on thirty to take care of.
There's a reason Knox doesn't do complications or high-maintenance women, especially not the romantic ones. But since Naomi's life imploded right in front of him, the least he can do is help her out of her jam. And just as soon as she stops getting into new trouble he can leave her alone and get back to his peaceful, solitary life.
At least, that's the plan until the trouble turns to real danger.
Books Like Things We Never Got Over
The Spanish Love Deception by Elena Armas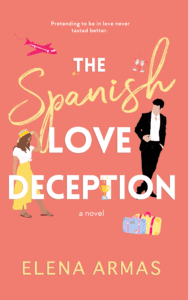 Series: Spanish Love Deception #1
Genre: Romance, Contemporary, Fiction, Adult, Chick Lit, Humor
Catalina Martín desperately needs a date to her sister's wedding. Especially since her little white lie about her American boyfriend has spiralled out of control. Now everyone she knows—including her ex and his fiancée—will be there and eager to meet him.
She only has four weeks to find someone willing to cross the Atlantic and aid in her deception. New York to Spain is no short flight and her raucous family won't be easy to fool.
Enter Aaron Blackford—her tall, handsome, condescending colleague—who surprisingly offers to step in. She'd rather refuse; never has there been a more aggravating, blood-boiling, and insufferable man.
But Catalina is desperate, and as the wedding draws nearer, Aaron looks like her best option. And she begins to realize he might not be as terrible in the real world as he is at the office.
The Love Hypothesis by Ali Hazelwood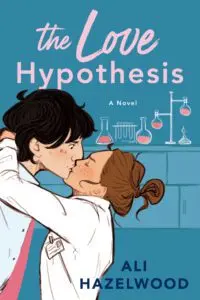 Genre: Romance, Contemporary, Fiction, Chick Lit, New Adult, Love, Fiction
When a fake relationship between scientists meets the irresistible force of attraction, it throws one woman's carefully calculated theories on love into chaos.
As a third-year Ph.D. candidate, Olive Smith doesn't believe in lasting romantic relationships–but her best friend does, and that's what got her into this situation. Convincing Anh that Olive is dating and well on her way to a happily ever after was always going to take more than hand-wavy Jedi mind tricks: Scientists require proof. So, like any self-respecting biologist, Olive panics and kisses the first man she sees.
That man is none other than Adam Carlsen, a young hotshot professor–and well-known ass. Which is why Olive is positively floored when Stanford's reigning lab tyrant agrees to keep her charade a secret and be her fake boyfriend. But when a big science conference goes haywire, putting Olive's career on the Bunsen burner, Adam surprises her again with his unyielding support and even more unyielding…six-pack abs.
Suddenly their little experiment feels dangerously close to combustion. And Olive discovers that the only thing more complicated than a hypothesis on love is putting her own heart under the microscope.
It Ends With Us by Colleen Hoover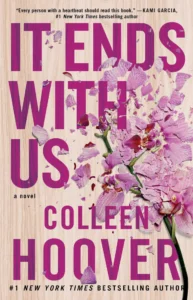 Genre: Romance, Fiction, Contemporary, New Adult, Abuse, Chick Lit, Young Adult
Sometimes it is the one who loves you who hurts you the most.
Lily hasn't always had it easy, but that's never stopped her from working hard for the life she wants. She's come a long way from the small town in Maine where she grew up — she graduated from college, moved to Boston, and started her own business. So when she feels a spark with a gorgeous neurosurgeon named Ryle Kincaid, everything in Lily's life suddenly seems almost too good to be true.
Ryle is assertive, stubborn, maybe even a little arrogant. He's also sensitive, brilliant, and has a total soft spot for Lily. And the way he looks in scrubs certainly doesn't hurt. Lily can't get him out of her head. But Ryle's complete aversion to relationships is disturbing. Even as Lily finds herself becoming the exception to his "no dating" rule, she can't help but wonder what made him that way in the first place.
As questions about her new relationship overwhelm her, so do thoughts of Atlas Corrigan — her first love and a link to the past she left behind. He was her kindred spirit, her protector. When Atlas suddenly reappears, everything Lily has built with Ryle is threatened.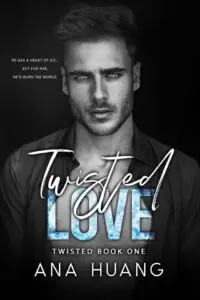 Series: Twisted #1
He has a heart of ice…but for her, he'd burn the world.
Alex Volkov is a devil blessed with the face of an angel and cursed with a past he can't escape.
Driven by a tragedy that has haunted him for most of his life, his ruthless pursuits for success and vengeance leave little room for matters of the heart.
But when he's forced to look after his best friend's sister, he starts to feel something in his chest:
A crack.
A melt.
A fire that could end his world as he knew it.
***
Ava Chen is a free spirit trapped by nightmares of a childhood she can't remember.
But despite her broken past, she's never stopped seeing the beauty in the world…including the heart beneath the icy exterior of a man she shouldn't want.
Her brother's best friend.
Her neighbor.
Her savior and her downfall.
Theirs is a love that was never supposed to happen—but when it does, it unleashes secrets that could destroy them both…and everything they hold dear.
Things We Never Got Over Spicy Chapters
Chapter 23 – Knox, Knox. Who's There?
Chapter 28 – Third Base
Chapter 35 – the Whole Story and a Happy Ending
Chapter 38 – F.I.N.E
Chapter 42 – The Old Knox
Epilogue
As many readers may know (especially romance book readers), oftentimes we like to seek out book tropes and read romance books that include the book tropes we usually like and the book tropes we want to read at the moment. It's what drives a lot of book recommendations and is a common way we seek out books to read.

If you are a reader who is interested in:
Tracking tropes that you have already read
Tracking tropes that you would want to read in the future
Collect original trope ideas that you came up with (and haven't come across before)
Then this book trope reading journal is perfectly made for you!