About In a Small, Quiet Village by Ian Hollis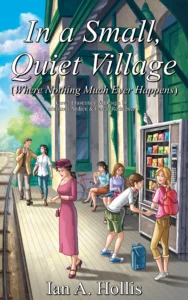 A seemingly ordinary village has very curious happenings in this magical realism upper-middle grade novel.
Before the wayfaring Adam arrived in the small village, his grandfather apprised him that the place was, "Like a beacon of hope…That small, quiet village where nothing much ever happens. Where you'll want for nothing, and ordinary people live ordinary lives." The village welcomed him instantly, after all it's not every day that someone new visits. The families of ten-year-old Jacob and his best friend, fourteen-year-old Sabrina, put Adam up in an abandoned house and make him the guest of honor at a lamb roast.
Nineteen-year-old Belle and her best friend Donna are contentedly predictable, eating their sack lunches each day on the porch steps of Grandpa and Grandma's house—who are not actually their grandparents but all the villagers call them that. Amanda, nearly the same age as Adam, tells the newcomer, "I kind of think of this place like a book. Everyone's their own main character in their own stories, and supporting cast in everyone else's stories…I honestly haven't seen much more of the world than what this place has to offer, but I love it here so much, why would I ever want to leave?"
Young Jacob and Sabrina enjoy spending their days together on little adventures, often walking the long path to what Jacob calls the "inconvenience store" due to its distance, and the old abandoned and dilapidated train station which, inexplicably, contains a perfectly working vending machine—no one knew who put it there, who filled it, or who maintained it—where they would enjoy a soda together.
When a disastrous storm wreaks havoc in the village, tragedy ensues and grief, loss, and uncertainty fill the village. With some moving on from the hamlet, needing to carve their own path, the rest are left wondering what the future will bring and how long it will be until the village returns to its ordinary, quiet place once again.
A masterful literary work for upper middle-graders, steeped with subtle threads of magic in the mundane, creating a seemingly ordinary tale with extraordinary details, In a Small, Quiet Village (Where Nothing Much Ever Happens) is the first title in the Cities & Villages saga.
In a Small, Quiet Village Review
I was compensated for my time reading the book and writing this review. However, all thoughts and opinions expressed are my own and are based on my honest personal experience reading the book. Nor did the author in any way shape or form ever pressure me to give a positive review.
In a Small, Quiet Village is a delightful and heartwarming upper-middle-grade fiction. This book effortlessly blends subtle threads of magic into an otherwise ordinary tale, creating a nostalgic and endearing experience for someone like me that haven't read a book of this genre in a while. As someone who primarily reads young adult and new adult books, delving into this middle-grade gem again was a refreshing change of pace, especially during my reading slump.
The author's expertise shines to me through their writing, particularly when compared to some newer authors in the upper middle-grade genre. One common pitfall for inexperienced writers in this genre is striking a balance between portraying child characters as genuine while avoiding the trap of making their behavior appear overly extreme or awkward. However, this is where this author excels. His skills in crafting interactions and shaping the personalities of the young main characters are truly impressive. The result is a naturalness that enhances the reading experience and allows readers, both young and older, to immerse themselves seamlessly in the characters' stories. This finesse in character development is a testament to the author's writing.
This is why the authentic portrayal of the young characters is one of the book's strongest suits. Unlike some middle-grade authors who struggle to balance realism with age-appropriate behaviour, Hollis strikes the right balance. The interactions, emotions, and overall personalities of the child protagonists feel remarkably genuine and relatable. Young readers can easily see themselves in the characters' shoes, making the story even more immersive.
The choice of shorter chapters in the book is an interesting one, considering the target audience. This format maintains a brisk pacing that keeps younger readers engaged, and the content remains easily digestible. The episodic structure can be particularly appealing to middle-grade readers, allowing them to read 'just one more chapter' without it feeling overwhelming. As the narrative unfolds, it maintains a well-balanced rhythm that strikes a chord with the intended audience.
While In a Small, Quiet Village doesn't fall under the thriller genre, it does possess moments of subtle suspense and unease. The sense of seclusion and the enigmatic aura shrouding the village's mysteries add a touch of creepiness that lingers in the background. It's as if the story occasionally flirts with the idea of veering into darker territories, without crossing the line into overt darkness. This delicate balance keeps readers of all ages engaged and curious about the village's secrets.
One aspect I had mixed feelings for though is the epilogue. Initially, it might feel somewhat detached from its reporting-style narrative. The abrupt transition from the narrative style to this more distant tone can be a bit disorienting. However, upon reflection, it appears that this stylistic choice might have been intentional to enhance the thriller elements. The epilogue's detachment serves to heighten the sense of unease, creating a fitting closure for the story's mysterious themes.
In a Small, Quiet Village is an overall well-crafted middle-grade novel that offers an engaging storyline, relatable characters, and a touch of the extraordinary in the everyday. It's a delightful read for both young and older readers, bridging the gap between middle-grade and young adult fiction. Hollis manages to evoke a sense of nostalgia while delivering a fresh and heartwarming tale that can be appreciated by readers of all ages.
Spoilers ahead. Skip the light grey texts if you don't want to be spoiled.
While I've grown to appreciate the stylistic choice of the epilogue after re-reading, the book's final line caught me so off guard it was funny and made me laugh haha. In this upper middle-grade novel, in the very last line of this entire book, delivered in the most deadpan tone is the line "I'm pregnant. You're the father.".
The deadpan delivery of this "surprise" and the way it was written due to the stylistic choice of the epilogue made this feel so out of left field I couldn't help but laugh at it. It was a bit out of nowhere for me. And it's also the way the note was written. Does anyone ever write a pregnancy note like that? In such a deadbeat "Luke, I am your father" tone? I apologize if this is not supposed to be funny, but I can't help it this was too hilarious. Sometimes, it's these unexpected things that stay with you long after you've finished reading! So I just wanted to share it and rant a bit.
If you liked this review and want to see other book reviews like this one, check out my book reviews collection!
About the Author of In a Small, Quiet Village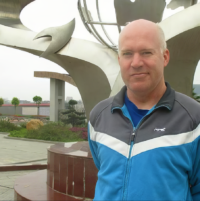 Two-time award winning novelist, Ian A. Hollis, (Firebird Awards (July 2022), Literary Titan Book Award Winner (August 2022)), has always been interested in creative writing and, after taking a course at University of New South Wales in 2012, the beginnings of an upper-middle grade novel began percolating. Ten years later, he completed In a Small, Quiet Village (Where Nothing Much Ever Happens), what he describes as a slice-of-life, light-hearted drama with elements of magical realism.
Movies are a big inspiration for Ian when he writes. Films like folksy Fried Green Tomatoes (at the Whistlestop Café), and the coming-of-age Japanese movies A Gentle Breeze in the Village, and Fireflies: River of Light shaped Ian's approach to writing. He thinks a great book is one that readers can relate to and that keeps them engaged mentally and emotionally. He hopes his story evokes something out of his young readers that stays with them long after the book is closed.
When he's not writing thought-provoking books for middle grade readers and young adults, Ian enjoys watching movies, listening to music, playing piano, engaging on social media, and playing video games. A composer of music, Ian taught English in China for five years and now teaches students online where he lives on the Mid-North Coast of New South Wales, Australia. In a Small Quiet Village (Where Nothing Much Ever Happens) is the debut book in his Cities & Villages saga.