About Reborn by Jenna Greene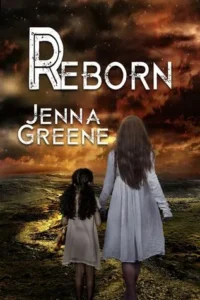 On the "Best Apocalyptic or Post-Apocalyptic YA Fiction" list on Goodreads!
Seven times marked. One way out…
From birth, Lexil is counted among the marked, souls who have lived before and must now serve those who are on their first lives. Which means she's doomed to a life of slavery with its hard labors and brutal punishments. A life she's learning to endure.
But when the marked child she's befriended is faced with a fate worse than death, Lexil decides to fight back. No matter the risk, no matter the cost.
Her only hope is to flee to the Wastelands with the one person she trusts, Finn. As he leads them through the deadly lands, she realizes that there are only two classes of people in the dangerous wilds, the hunters and the hunted. And among them, those who carry the knowledge of what it truly means to be a Reborn.
But to get to that truth and escape the barren lands alive, Lexil must face challenges that will test everything she thought she knew–and everything she thought she was…
The 100 meets Hunger Games and Divergent in this stunning Young Adult Dystopian trilogy.
Reborn Review
I was compensated for my time reading the book and writing this review. However, all thoughts and opinions expressed are my own and are based on my honest personal experience reading the book. Nor did the author in any way shape or form ever pressure me to give a positive review.
Reborn, Jenna Greene's dystopian novel, takes place in a world divided between the privileged "once-borns" and the oppressed "Reborns." The presence or absence of marks on an individual's skin, reflecting the number of lives they have lived, is the defining attribute of this culture. Life is generally comfortable for "once-borns," but "reborns" like Lexil, our resilient protagonist, faces a dismal existence. Lexil, who has seven marks, is sentenced to a life of servitude that includes hard labour and cruel punishments.
However, when a young marked child faces a horrifying destiny, Lexil takes a stand. Teaming up with Finn, a trusted ally, she embarks on a perilous journey to the Wastelands, where she will confront the harsh realities of a world divided into hunters and the hunted. Through her determination, Lexil discovers that the marks on her skin carry deeper significance, sparking a quest for truth, freedom, and self-discovery. In this world, marks become potent symbols of societal discrimination, driving Lexil to challenge a system that seeks to define her worth solely based on her past lives.
I enjoyed this book! Reborn drew me in from the very start with its excellent dialogue and fluid writing style, which made the reading experience very pleasurable. The world-building was also absolutely fantastic and was introduced to at the beginning of the story without being awkward or too overly expositional. It's no wonder Reborn has earned its spot on the 'Best Apocalyptic or Post-Apocalyptic YA Fiction' list on Goodreads.
Honestly, the writing is so good I felt like the book cover does it injustice. The book cover doesn't really match up to the exceptional quality of the writing inside. This is especially relevant considering how Reborn is a YA book. The YA and NA readers a huge fans of beautiful book covers, and a cover that fits the aesthetic tastes of the type of books they like to read can really pique their interest. Therefore, considering how YA and NA readers really do judge books based on their covers, investing in an ever better-designed book cover could be a way to draw more readers in that demographic. Since the aesthetics of a book cover is commonly a huge decisive factor for potential YA and NA readers, I believe it's something worthy of note.
The characters in Reborn, especially Lexil, are well-developed, with each one making me emotionally attached and invested in their journeys and outcomes. This book beautifully explores the themes of coming of age and self-discovery, particularly within the context of young adulthood. Lexil, our protagonist, is a character one can't help but root for. Her remarkable responsibility, bravery, and courage (especially given her age), make her not just relatable but an inspiring figure.
Lexil's character is also a testament to her unwavering strength and exceptional adaptability. She is so incredibly strong I genuinely felt so bad for the discrimination she had to go through. Throughout the story's ever-evolving world, she emerges as a remarkable problem-solver. Her resilience in the face of adversity is truly inspiring. Whether it's navigating the complexities of a harsh plantation or finding her way through the enigmatic and often perilous unclaimed cities, Lexil demonstrates relevant resourceful and intelligent abilities to assess her surroundings, think on her feet, and make critical decisions. It's very satisfying to follow a post-apocalyptic survival story protagonist who is smart, hence not frustrating to read. Which really makes you want to root for them.
Overall the narrative, world-building, and characters are all great. I had such a great time reading the book. Definitely will remember the author of this book.
If you liked this review and want to see other book reviews like this one, check out my book reviews collection!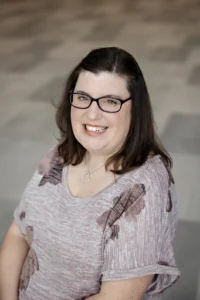 Jenna Greene is a YA/ Children's author from Alberta, Canada. She is also an elementary school teacher. When she isn't reading or writing, she enjoys dance and dragonboat racing. Jenna is known for her Reborn Marks series, her Imagine series, and her pictures books.