Song of Amber and Ire by Delaine Coppock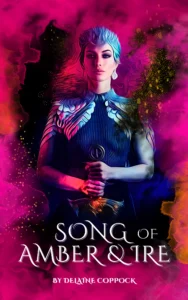 Asra was plucked as an infant from her mother, chosen by Queen Asalah to become the next Queen of Na'eem. Na'eem, a land of plenty, ruled with fear of Asalah's iron fist and unbending Blood Laws, where men are never trusted for they are wily and dangerous.
Matriarchy rules all, and women run this town. Asra hardened herself to men, until she met Fey, a stranger with piercing eyes who holds an ocean of secrets and captures Asra's heart.
But why has she never seen this mysterious blue eyed stranger before?
Song of Amber and Ire Review
I was compensated for my time reading the book and writing this review. However, all thoughts and opinions expressed are my own and are based on my honest personal experience reading the book. Nor did the author in any way shape or form ever pressure me to give a positive review.
I've also read and reviewed the sequel. Make sure to check out my review for book 2 of this series!
In Song of Amber and Ire, we are transported to the fantasy matriarchal world of Na'eem that is overseen by the formidable Queen Asalah. A powerful reigning monarch, she governs through a strict code of Blood Laws with a dash of mistrust of men. Asra, Queen Asalah's daughter and our heroine is destined to become the next queen.
However, everything changes when she encounters a mysterious stranger named Fey. While Fey captures Asra's heart, a mystery unravels as Asra grapples with the inexplicable feeling of familiarity towards this stranger, despite never having encountered him before.
One thing that stood out to me when reading Song of Amber and Ire was the historical fiction style narrative, dialogue, and writing style. Which crafted a vintage fantastical atmosphere when reading the book. Maybe it's because of my reading habits that impact what kind of books I usually read, but I don't read a lot of fantasy romance books with historical tones (and historical fiction in general). So this was refreshing to me and helped a lot during my reading slump.
I also am a huge fan of matriarchal worldbuilding as well. It's one way I cope with the fact that I am living in a patriarchal society as a woman (ha), and I always get a lot of satisfaction from reading it. So this was definitely another feature of the book that made me interested in reading it.
For our protagonist, Asra deviates from the conventional fantasy heroine we commonly see these days, who often start as powerful and immediately alluring figures (the strong-woman persona, think SJM, Holly Black female protagonists). Asra is instead initially shown as having almost a sense of naivety and innocence (I can't think of another word to put it), which is noticeable in circumstances like how she became so easily flustered during her first encounter with Fey. But this pays off later as the narrative invests in the growth and development of Asra's maturity and strength throughout the book. Which is quite prominent if you compare her before and after the book.
Speaking of which, the growth of Asra's character in Song of Amber and Ire is fantastic. Again, if you compare her before and after the book, you can see how she went from a place of self-doubt to being a fiercely independent and self-assured monarch. We witness her development as she emerges from her mother's shadow to claim her own identity and power. Asra's journey is a potent reminder that anyone may develop inner strength and perseverance even in the face of overwhelming difficulties. Her character develops throughout the narrative, adding depth and making her a more fascinating and relatable heroine.
The book's chapter amount is on the more manageable side with 29 chapters, making it easier to get into as an introduction to the series. Fey is also a more flirtatious and upbeat character than the colder, brooder male leads out there. So if that sounds interesting to you, you are craving a romance taking place in a matriarchal fantasy world instead of the typical patriarchal world, try checking it out! You may like it.
If you liked this review and want to see other book reviews like this one, check out my book reviews collection!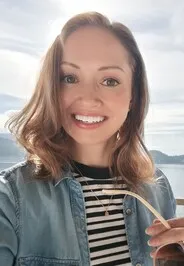 Delaine is an author in BC Canada. She holds an Honours degree from Stirling University in Scotland and a Master's degree from Bournemouth University in England. Delaine is a talented video editor and animation artist who previously worked in computer gaming at Sony PlayStation before moving into publishing. Delaine writes Fantasy, YA and Romance.
Delaine is represented by Literary Agent, Erik McManus, at Breakeven Books.