What are the A Court of Thorns and Roses spicy chapters? Well, this guide is for you! Check out the A Court of Thorns and Roses spicy chapters so that you can either jump to it or skip it. And is A Court of Thorns and Roses spicy?
Yes, but there isn't a lot. It's arguably one of if not the least spicy books in the entire series. Which is a good thing in my opinion.
About A Court of Thorns and Roses by Sarah J. Maas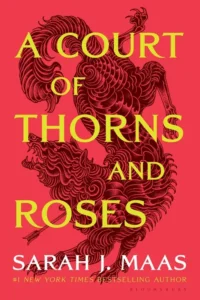 Series: A Court of Thorns and Roses #1
Genre: High Fantasy, Romance, New Adult, Fae, Retellings, Magic
When nineteen-year-old huntress Feyre kills a wolf in the woods, a terrifying creature arrives to demand retribution. Dragged to a treacherous magical land she knows about only from legends, Feyre discovers that her captor is not truly a beast, but one of the lethal, immortal faeries who once ruled her world.
At least, he's not a beast all the time.
As she adapts to her new home, her feelings for the faerie, Tamlin, transform from icy hostility into a fiery passion that burns through every lie she's been told about the beautiful, dangerous world of the Fae. But something is not right in the faerie lands. An ancient, wicked shadow is growing, and Feyre must find a way to stop it, or doom Tamlin—and his world—forever.
From bestselling author Sarah J. Maas comes a seductive, breathtaking book that blends romance, adventure, and faerie lore into an unforgettable read.
A Court of Thorns and Roses Review
I am like, years too late with this review haha. Sorry about that! But better late than never. The series has become a cultural phenomenon, with fans passionately discussing the characters, plot twists, and swoon-worthy romances on social media platforms, book forums, and fan sites.
It has consistently topped bestseller lists, captivating millions of readers worldwide and garnering a dedicated and loyal fanbase. When can we get an adaption??? It's been 84 years.
A Court of Thorns and Roses is a fantasy novel that takes place in the mystical realm of Prythian. The story follows Feyre Archeron, a young huntress who unknowingly kills a faerie wolf, triggering a chain of events that leads her into the heart of the dangerous and captivating world of the fae.
Sarah J. Maas' writing is captivating and immersive (as usual since she is a queen), drawing readers into the richly detailed world of Prythian. The descriptions of the lush landscapes and intricate court politics are vivid and vivid, making it easy to get lost in the pages of this enthralling novel.
Feyre is a strong and compelling protagonist, and her journey of self-discovery and bravery is inspiring and heartwarming. As she navigates the treacherous world of the fae and discovers her own hidden powers, readers can't help but root for her every step of the way.
Feyre's characterization is a contrast with Aelin from Throne of Glass. Feyre possesses a different kind of strength and vulnerability that sets her apart as a unique and relatable character. While Aelin is known for her cunning and strategic mind, Feyre's strength lies in her resilience and determination.
She is not a trained assassin or a queen with magical abilities, but a mortal girl thrust into a world of powerful faeries.
Despite her lack of inherent magical prowess, Feyre's resourcefulness and unwavering spirit make her a force to be reckoned with. There is also more smut than Throne of Glass (you'll see when you check out A Court of Thorns and Roses spicy chapters listed above).
The romance between Feyre and Tamlin, the High Lord of the Spring Court, is beautifully developed and filled with passion and intensity. Their chemistry sizzles on the pages, and their love story is both tender and fiery, making it a book highlight.
Though don't get too tight with it, since I've recommended this as one of the best and most popular "heroine gets the second guy trope" books. And check out the A Court of Thorns and Roses spicy chapters list above if you want a closer look at their romance *wink*.
As I continued reading, I was pleasantly surprised to discover that it's a retelling of Beauty and the Beast. The subtle nods to the classic fairy tale and the way Sarah J. Maas weaves her own unique and bewitching storyline had me completely surprised because it's quite hidden honestly.
The way she reimagines beloved characters and infuses the narrative with her own creative twists showcases her brilliance as an author. I had no idea that this beloved fantasy series would offer such a delightful and refreshing take on a timeless tale, making it an even more enthralling read.
Overall, A Court of Thorns and Roses is a captivating and unforgettable start to the series, and it's a must-read for fans of fantasy and romance alike. Sarah J. Maas has created a world and characters that will stay with you long after you turn the final page, and it's a book that will leave you eagerly reaching for the next installment in the series.
Highly recommend it if you are into Sarah J. Maas's previous books already! And again, check out the A Court of Thorns and Roses spicy chapters above if you want to jump to (or skip) the spice.
A Court of Thorns and Roses Spicy Chapters
Chapter 27
Chapter 42
As many readers may know (especially romance book readers), oftentimes we like to seek out book tropes and read romance books that include the book tropes we usually like and the book tropes we want to read at the moment. It's what drives a lot of book recommendations and is a common way we seek out books to read.

If you are a reader who is interested in:
Tracking tropes that you have already read
Tracking tropes that you would want to read in the future
Collect original trope ideas that you came up with (and haven't come across before)
Then this book trope reading journal is perfectly made for you!