Is Hook Line and Sinker Spicy? Uhhh, not really. But since it's a common query, your wishes are my command and I'll heed your calls anyway. So if you want the Hook Line and Sinker spicy chapters, this guide is for you!
Hover over the image to pin it and save it to your board so you can look back on it later!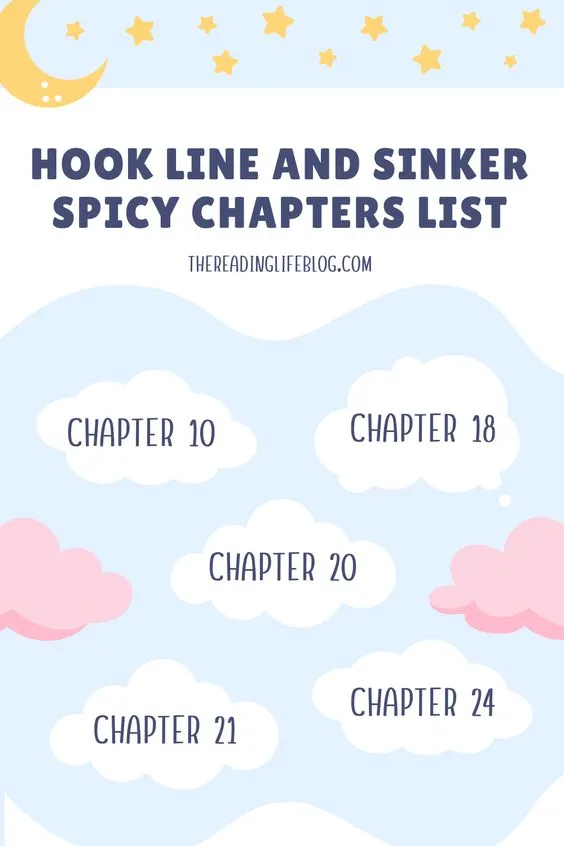 Hook Line and Sinker by Tessa Bailey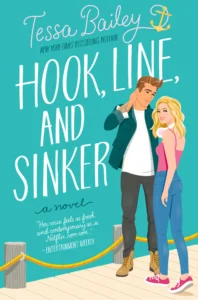 Genre: Romance, Contemporary, Fiction, Chick Lit, New Adult
In the follow-up to It Happened One Summer, Tessa Bailey delivers another deliciously fun rom-com about a former player who accidentally falls for his best friend while trying to help her land a different man…
King crab fisherman Fox Thornton has a reputation as a s*xy, carefree flirt. Everyone knows he's a guaranteed good time—in bed and out—and that's exactly how he prefers it. Until he meets Hannah Bellinger. She's immune to his charm and looks, but she seems to enjoy his… personality? And wants to be friends? Bizarre. But he likes her too much to risk a fling, so platonic pals it is.
Now, Hannah's in town for work, crashing in Fox's spare bedroom. She knows he's a notorious ladies' man, but they're definitely just friends. In fact, she's nursing a hopeless crush on a colleague and Fox is just the person to help with her lackluster love life. Armed with a few tips from Westport's resident Casanova, Hannah sets out to catch her coworker's eye… yet the more time she spends with Fox, the more she wants him instead. As the line between friendship and flirtation begins to blur, Hannah can't deny she loves everything about Fox, but she refuses to be another notch on his bedpost.
Living with his best friend should have been easy. Except now she's walking around in a towel, sleeping right across the hall, and Fox is fantasizing about waking up next to her for the rest of his life and… and… man overboard! He's fallen for her, hook, line, and sinker. Helping her flirt with another guy is pure torture, but maybe if Fox can tackle his inner demons and show Hannah he's all in, she'll choose him instead?
Hook Line and Sinker Spicy Chapters
Chapter 10
Chapter 18
Chapter 20
Chapter 21
Chapter 24
Books like Hook Line and Sinker
The Love Hypothesis by Ali Hazelwood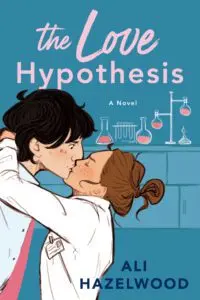 Genre: Romance, Contemporary, Fiction, Chick Lit, New Adult, Love, Fiction
When a fake relationship between scientists meets the irresistible force of attraction, it throws one woman's carefully calculated theories on love into chaos.
As a third-year Ph.D. candidate, Olive Smith doesn't believe in lasting romantic relationships–but her best friend does, and that's what got her into this situation. Convincing Anh that Olive is dating and well on her way to a happily ever after was always going to take more than hand-wavy Jedi mind tricks: Scientists require proof. So, like any self-respecting biologist, Olive panics and kisses the first man she sees.
That man is none other than Adam Carlsen, a young hotshot professor–and well-known ass. Which is why Olive is positively floored when Stanford's reigning lab tyrant agrees to keep her charade a secret and be her fake boyfriend. But when a big science conference goes haywire, putting Olive's career on the Bunsen burner, Adam surprises her again with his unyielding support and even more unyielding…six-pack abs.
Suddenly their little experiment feels dangerously close to combustion. And Olive discovers that the only thing more complicated than a hypothesis on love is putting her own heart under the microscope.
The Fine Print by Lauren Asher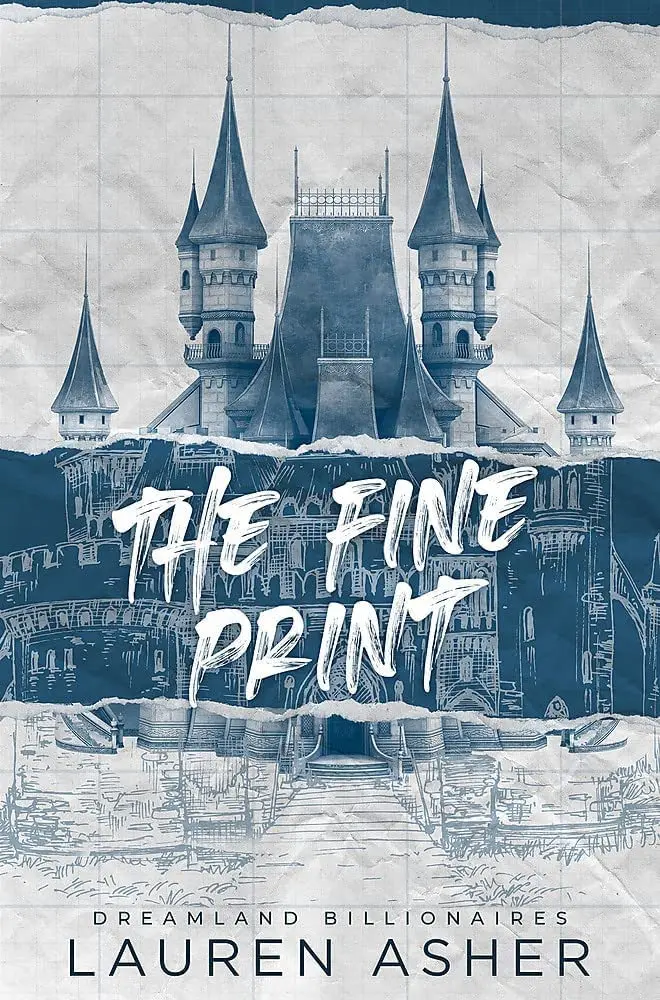 Series: Dreamland Billionaires #1
Rowan
I'm in the business of creating fairy tales.

Theme parks. Production companies. Five-star hotels.
Everything could be all mine if I renovated Dreamland.
My initial idea of hiring Zahra was good in theory, but then I kissed her.
Things spiralled out of control once I texted her using an alias.
By the time I realized where I went wrong, it was too late.
People like me don't get happy endings.
Not when we're destined to ruin them.

Zahra
After submitting a drunk proposal criticizing Dreamland's most expensive ride, I should have been fired.
Instead, Rowan Kane offered me a dream job.
The catch? I had to work for the most difficult boss I'd ever met.
Rowan was rude and completely off-limits, but my heart didn't care.
At least not until I discovered his secret.
It was time to teach the billionaire that money couldn't fix everything.
Especially not us.
The Fine Print is the first book in a series of interconnected standalones following three billionaire brothers.
A typical billionaire romance that is quite popular. It's one of the more famous ones of the genre, especially on Kindle Unlimited. Has around 3-4 scenes that are explicit.
Things We Never Got Over by Lucy Score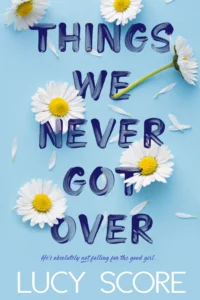 Series: Knockemout #1
Genre: Contemporary, Romance, Fiction, Adult, Chick Lit, Love, Humor
Bearded, bad-boy barber Knox prefers to live his life the way he takes his coffee: Alone. Unless you count his basset hound, Waylon.

Knox doesn't tolerate drama, even when it comes in the form of a stranded runaway bride.
Naomi wasn't just running away from her wedding. She was riding to the rescue of her estranged twin to Knockemout, Virginia, a rough-around-the-edges town where disputes are settled the old-fashioned way…with fists and beer. Usually in that order.
Too bad for Naomi her evil twin hasn't changed at all. After helping herself to Naomi's car and cash, Tina leaves her with something unexpected. The niece Naomi didn't know she had. Now she's stuck in town with no car, no job, no plan, and no home with an 11-year-old going on thirty to take care of.
There's a reason Knox doesn't do complications or high-maintenance women, especially not the romantic ones. But since Naomi's life imploded right in front of him, the least he can do is help her out of her jam. And just as soon as she stops getting into new trouble he can leave her alone and get back to his peaceful, solitary life.
At least, that's the plan until the trouble turns to real danger.
Twisted Love by Ana Huang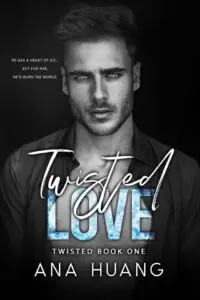 Series: Twisted #1
He has a heart of ice…but for her, he'd burn the world.
Alex Volkov is a devil blessed with the face of an angel and cursed with a past he can't escape.
Driven by a tragedy that has haunted him for most of his life, his ruthless pursuits for success and vengeance leave little room for matters of the heart.
But when he's forced to look after his best friend's sister, he starts to feel something in his chest:
A crack.
A melt.
A fire that could end his world as he knew it.
***
Ava Chen is a free spirit trapped by nightmares of a childhood she can't remember.
But despite her broken past, she's never stopped seeing the beauty in the world…including the heart beneath the icy exterior of a man she shouldn't want.
Her brother's best friend.
Her neighbor.
Her savior and her downfall.
Theirs is a love that was never supposed to happen—but when it does, it unleashes secrets that could destroy them both…and everything they hold dear.
An enemies to loves slow-burn brother's best friend/grumpy sunshine romance. I recommend it if you are into a man possessive hot young billionaire Russian man driven for revenge until our dear sunshine heroine melts his cold ice heart.
Hook Line and Sinker Review
The chemistry between Jackie and Jon sizzles is AMAZING. Tessa Bailey masterfully crafts a slow-burn romance that keeps readers hooked, as the tension and passion between the characters build to a steamy crescendo.
One of the standout elements of "Hook Line and Sinker" is the witty banter and playful interactions between Jackie and Jon. Their verbal sparring is both entertaining and endearing, and it adds depth to their growing relationship.
The novel also delves into themes of personal growth and overcoming past traumas. Jackie's journey of self-discovery and empowerment adds depth to the story, and her vulnerability and strength make her a relatable and likable protagonist.
The steamy and intimate scenes in the book are tastefully written and add an extra layer of sensuality to the story. Tessa Bailey's writing style is engaging and emotive, making this novel a must-read for fans of sizzling chemistry and irresistible love stories. If you're looking for a book that will make your heart race and your pulse quicken, this one is sure to reel you in. In summary, it's good!
Hover over the image to pin it and save it to your board so you can look back on it later!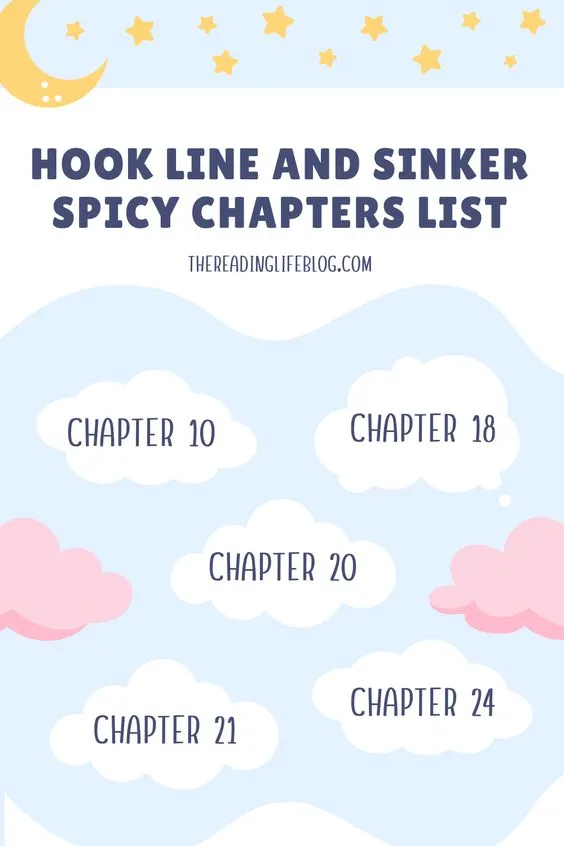 As many readers may know (especially romance book readers), oftentimes we like to seek out book tropes and read romance books that include the book tropes we usually like and the book tropes we want to read at the moment. It's what drives a lot of book recommendations and is a common way we seek out books to read.

If you are a reader who is interested in:
Tracking tropes that you have already read
Tracking tropes that you would want to read in the future
Collect original trope ideas that you came up with (and haven't come across before)
Then this book trope reading journal is perfectly made for you!